Liz is an Australian artist who draws and paints, and she also makes jewellery and masks. Her graphic work is done in Indian ink, coloured inks, acrylic paint or felt tipped pen on paper. She has been drawing for ages, while doing other things as well including lots of travelling. She is a University graduate, and has worked at many jobs including being a high school teacher (she's an economics graduate). After disillusionment with the teaching life, she became a silversmith, environmentalist and author, in addition to being an artist. She has developed a unique style in her work, as this website shows.

Liz lives and works at North Avoca (near Terrigal) NSW, which is a seaside town north of Sydney. For a picture of Liz, click here.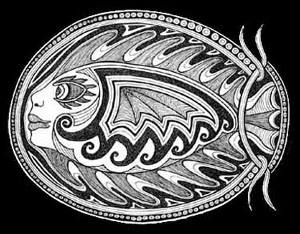 Fish Woman - © Liz Parkinson

In the art world, Liz's main claim to fame is having three works in the Collection de l'Art brut in Lausanne, Switzerland. The works were purchased in 1979, as the result of the recommendation of the late Jean Dubuffet. This came about when Liz became acquainted with Herbert Eckert, a life-time friend of Dubuffet's.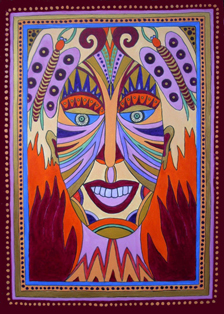 The Woman with the mauve butterflies


This appeared in Raw Vision Magazine Winter 2013 No.80. page 47
© Liz Parkinson
Liz has regularly been called an outsider artist, but she's not at all like the stereotype - just shows that you can't always put people into boxes! However she conforms to the regular outsider label of being self-taught.

When she has time, she prints some of her designs on cards, calendars and t-shirts using the brand-name Lazy Lizard. She sees the Internet as an alternative way to show her artwork.