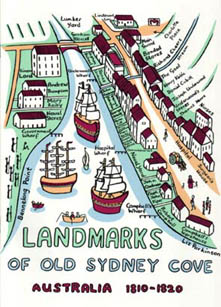 This small book looks at the area around today's Circular Quay, and traces the story of some of its earliest inhabitants. It was initially known as the Tank Stream, after its supply of fresh water, and later became a busy port. Some of Sydney's wealthiest merchants had their stores and houses along its frontage, and there was also a shipyard. This is the story of some of the people and their activities from about 1810 to 1820.
Landmarks of Old Sydney Cove

$2.00 plus GST,
postage and packing
FREE when purchasing

'The Underwoods: Lock, Stock & Barrel'

If you would like a copy of this book, then please contact Liz Parkinson by email
lizparkinson2002@gmail.com or write to

The Lazy Lizard, PO Box 157, Terrigal NSW 2260
To return to the main Lazy Lizard home-page click here.